MEMBERS OF THE GERMAN BUNDESTAG
Members of the 16th German Bundestag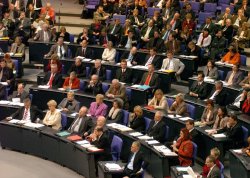 Members
© German Bundestag
The 16th German Bundestag has 614 Members.
Members of the German Bundestag are elected in general, direct, free, equal and secret elections. They are representatives of the whole people, not bound by orders or instructions and only responsible to their conscience.
Members may only lose their seats before the end of the electoral term if they renounce their mandate or are deprived of eligibility to hold public office by a judicial decision, but not as a result of a vote of no confidence by the voters or exclusion from a parliamentary group. No one may be prevented from taking up and exercising a parliamentary mandate. It is therefore impossible for Members to be "dismissed".
Quelle: http://www.bundestag.de/htdocs_e/members/
Top

Print Version