Services for visiting groups and individuals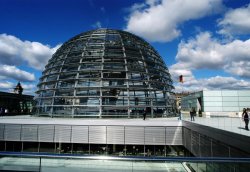 The Dome of the Reichstag Building
© DBT
In recent years, the German Bundestag has developed into a major visitor attraction. More than 15 million people have visited it since the transfer from Bonn to Berlin. They tour the buildings, listen to talks and attend plenary sittings. The wide range of visiting options is supplemented by a number of special options, including, for example, Children's Days and the "Experiencing Parliamentary Democracy" role play.
When Parliament is sitting, the galleries above the plenary chamber are filled with visitors. The roof terrace and dome offer an inviting and inspiring location where people can linger.

We are delighted to welcome you to the Visitors' Service web pages, where you will find a wide range of information provided free of charge.
Quelle: http://www.bundestag.de/htdocs_e/visitors/
Top

Print Version