Election of the Presidium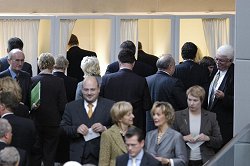 Members in front of the polling booths
© German Bundestag
Elections in the first sitting of the plenary
The President and Vice-Presidents of the German Bundestag are elected during the constituent sitting, the very first time the new parliament meets following the elections.
Traditionally, the President of the German Bundestag comes from the largest parliamentary group. As a rule, many Members of the other parliamentary groups also vote for him or her in the secret ballot.
If no candidate gains an absolute majority of the Members of the German Bundestag in the first ballot, a second ballot is then held, possibly with new candidates. Should no candidate gain an absolute majority in this vote either, the two challengers who have gained the largest shares of the vote go into a third ballot, which is decided by the simple majority of the votes cast. If the run-off vote is tied, lots are drawn.
Election of the Vice-Presidents
Once the President of the German Bundestag has accepted his or her election and assumed the conduct of the constituent sitting from the President by Age, he or she holds individual votes to elect his or her deputies.
There are no provisions concerning the number of Vice-Presidents. However, since 1994 the Rules of Procedure have provided for each parliamentary group to nominate at least one Vice-President. In the 16th electoral term, there are six Vice-Presidents: Wolfgang Thierse (SPD), Gerda Hasselfeldt (CDU/CSU), Susanne Kastner (SPD), Hermann Otto Solms (FDP), Petra Pau (The Left Party) and Katrin Göring-Eckardt (Alliance 90/The Greens).
Like the President, they are elected for the duration of the electoral term and cannot be dismissed from office. Together with the President of the German Bundestag, they form the Presidium. At the same time, they are members of the Council of Elders.
Quelle: http://www.bundestag.de/htdocs_e/parliament/presidium/election
Top

Print Version